A Gothenburg'er living in Copenhagen.
I pride myself of my hands-on skills within UX/UI and Digital Design, Motion Graphics, Video/Audio Editing and Games. I have a solid foundation of experience from various creative fields and work places, such as: Game Studios, Digital Advertisement (Agency), and in-house Brand Development.

I am currently freelancing within the fields of UX/UI, Content Creation and Video, but are interested in full-time positions.
My daily work tools are: Sketch, Photoshop, Premiere Pro, After Effects and Unity game engine.

I recently returned to Copenhagen, after working as Digital Designer and Creative Concepter for a year in Amsterdam at the Digital media agency Pervorm, and I feel more ready than ever to take on any future challenge, and to continue using my skills to create great results and solutions.
In 2017 I graduated with a degree in Digital Concept Development, - an education where we worked solely with real clients and real cases, using our skills to create great digital services and experiences.
I previously hold a degree within Multimedia Design and Communication, where my interest for Motion-Graphics and creative digital solutions started.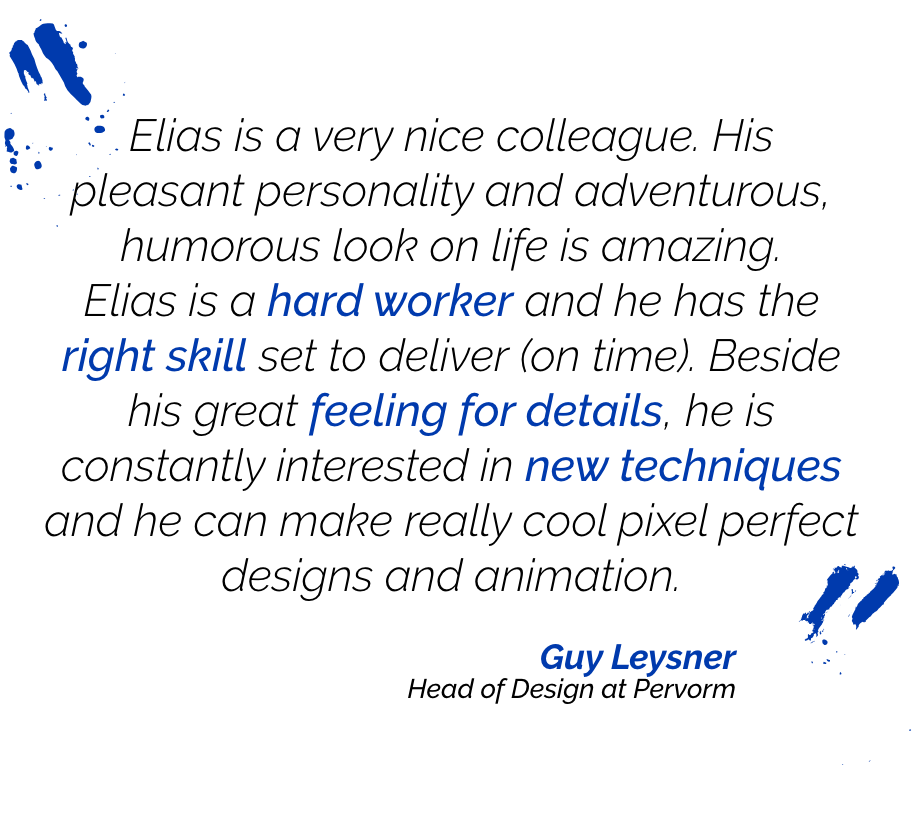 Freelance - Various clients

Digital Design and Animation: Cadpeople (Aarhus based innovation agency)

For 10 days I worked on-site in Aarhus, to develop concepts and design for one of Cadpeople's biggest clients: a Danish tech-giant.

Digital Design & Advertisement: Step-in-Books (A Copenhagen based game/tech studio creating digital solutions)
Developing advertisement and UX/UI based content for Step-in-Book's and their new platforms.

Fantastic, Yes (Game Studio) Project-Employment
2018/06-2018/08

Digital and UX Designer, Motion Graphics and Video

Pervorm (Advertisement/Marketing Agency)


2017-2018
Digital Designer, Creative Concepter
Siteimprove (Software Company)
2015-2017
Graphic Designer (Marketing Team)

Danmarks Radio (DR) - Internship
2015 (feb-april)

Digital Designer, Motion Graphics artist (Marketing)

Beyond Unltd (Design Agency) - Internship
2013 (jan-jun)

Copenhagen School of Design and Technology (KEA)
2015-2017

Digital Concept Development (BA)

Copenhagen School of Design and Technology (KEA)
2013-2015

Multimedia Design & Communication (AP)

Photoshop, Illustrator, Indesign, After Effects, Premiere Pro, Media Encoder
Cinema 4D
Facebook AR-Studio

Unity 3D (Cinemachine+Timeline)
Find my profile interesting? See a future collaboration?
Thank you! I will get back to you in a flash!